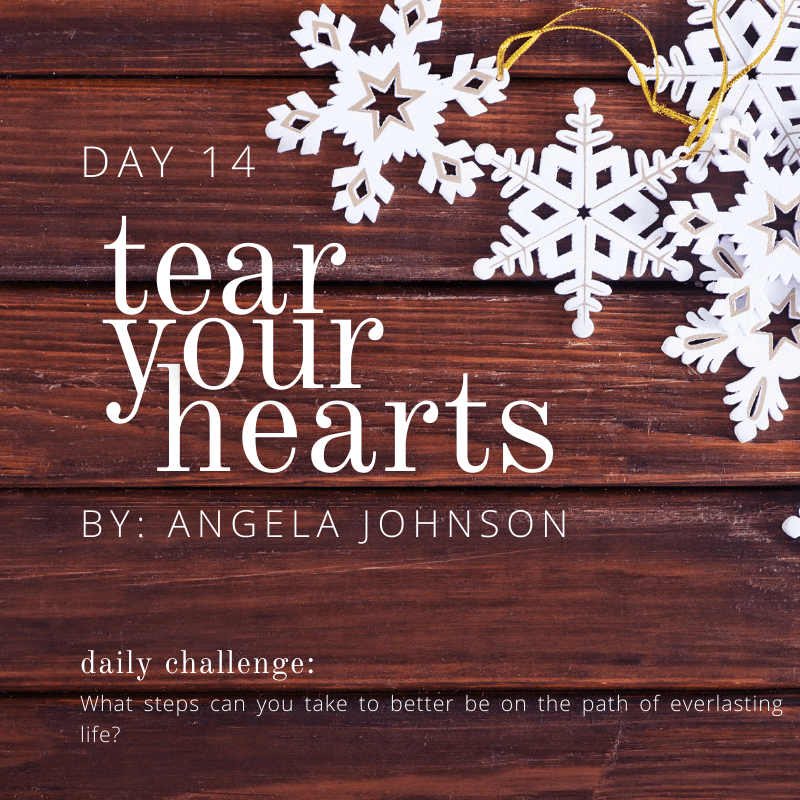 DAY 14: Tear Your Hearts
BY: ANGELA JOHNSON
---
The book of Joel might not be on your short list of things to read. And, you may not have it underlined and highlighted as much as the other 65 books in your Bible. But, this four-chapter book written around 830 BC contains a powerful message. The prophet Joel challenged God's people to repent, to move from mere outward displays of religiosity, and to experience a true, genuine heart change. His message was one of repentance, hope, and salvation.
In typical prophetic form, Joel first gave readers the bad news of God's judgment but then provided the good news of His promised deliverance.
He begins: "Hear this, you leaders of the people! Everyone listen! In all your history, has anything like this ever happened before? Tell your children about it in the years to come. Pass the awful story down from generation to generation." Joel 1:2-3, NLT
The people of Israel were suffering. They were in the midst of a massive enemy attack. A vast army of locusts had invaded the land of Judah and they had rendered the people and the land destitute; the crops, livestock, and people were perishing because of Israel's sin. He continues with describing the emotion of the day: "Fear grips all the people; every face grows pale with fright." Joel 2:6a, NLT
I am amazed that we can read this historic text, in the middle of a pandemic in 2020 and it still applies today.
Of course, our nation has endured pandemics, and our world has experienced suffering, but this generation has NEVER lived through a comparable situation in all our lives. So many of us have had moments of fear and anxiety as our world has been upended.
Joel's message was a stern and timely warning of the great "day of the Lord" at the end of time (Joel 1:15). Though this cautionary message was to a nation who had drifted from God, there was still the glorious hope of revival and restoration yet to come. Like the nation of Israel, our world has drifted far from the things of God; we have turned our back on our Creator. Though our sinful actions bring God's judgement, we need to know that He is gracious and forging. He will bring a promised restoration, but first, we must repent.
"That is why the Lord says, "Turn to me now, while there is still time! Give me your hearts. Come with Fasting, weeping, and mourning. Don't tear your clothing in your grief; instead, tear your hearts." Return to the Lord your God, for he is gracious and merciful. He is not easily angered. He is filled with kindness and eager not to punish you." Joel 2:12-13, NLT
Centuries later, Joel's message of repentance still applies to us today. Through the birth, life, death, and resurrection of Jesus Christ we have a tangible representation of redemption and deliverance. But, in order to receive this gift, God doesn't just want a physical act of repentance. He longs for true, heart sorrow — a genuine desire for forgiveness.
So many of us recognize our need for a Savior, but we are fearful of the condemnation. It can be painful to confess our offenses, but take comfort that our gracious and merciful God is full of kindness and He always forgives!
This Christmas season, wherever you are in your relationship with the Lord, prepare your heart and make room to accept the gift of salvation, redemption, and forgiveness.
Ask God to bring anything to light in your life that hinders you from Him.
Ask God to point out anything in you that offends Him.
But, if you ask, be ready for Him to answer.
---
Let's Pray.
"Search me, O God, and know my heart; test me and know my anxious thoughts. Point out anything in me that offends you, and lead me along the path of everlasting life. Amen." (Psalm 139:23-24, NLT)
Daily Challenge:
What steps can you take to better be on the path of everlasting life?
#Advent2020AC

Tweet